Suzanne is the founder of Babacool. She is a Senior Yoga Teacher, Yoga Coach & Trainer Pro (YAP) with over 4000 teaching hours under her belt.
She has a degree in Philosophy, Politics and Economics and worked in corporate finance for years before becoming a full time yoga teacher. Based just outside London, UK, she works online and locally.
Suzanne teaches meditative yoga that releases physical, emotional and mental patterns. She focuses on developing self-awareness, resilience, and freedom. Her classes are for those wishing to unravel their story and find their true self. They will also appeal to those who wish to experience deeper states of consciousness as well as those open to exploring more unconventional methods.
Away from teaching and training, she enjoys plant based cooking, Americana and blues music, reading, theatre and travel.
Yoga Alliance Professionals Senior Yoga Teacher with over 4000 hours teaching experience. YAP Yoga Coach & Mentor, and YAP Trainer Pro (yoga training provider).
Fully qualified to teach Kundalini Yoga, Sports Yoga (Sarah Ramsden), and Yin Yoga (Sarah Lo).
Certified breath coach with

Oxygen Advantage.
TRE (Trauma & Tension Release Exercises) instructor.
Qualified and highly experienced Gong Practitioner / Sound Therapist & am passionate about the healing effects of sound. I have trained with Mark Swan, Don Conreaux, Mehtab Benton and others.
Studied with several renowned meditation teachers including Sally Kempton. I have been practising meditation since my early 20s and have knowledge of a number of different schools including Vipassana, Kashmir Shaivism (Tantra), Kundalini and Mindfulness.
Professional development with Uma Dinsmore Tuli (Yoga Nidra), Max Strom (Inner Axis), Tom Myers (Anatomy Trains), Jo Phee (Acuyin) and Anodea Judith (Bioenergetics). I am hugely interested in the history of yoga and have completed a course of study of this with SOAS/ Yoga Campus.
ITEC qualified massage therapist
Reiki Master.
Currently in training to be as a plant-based nutritionist.
Gong Yoga Training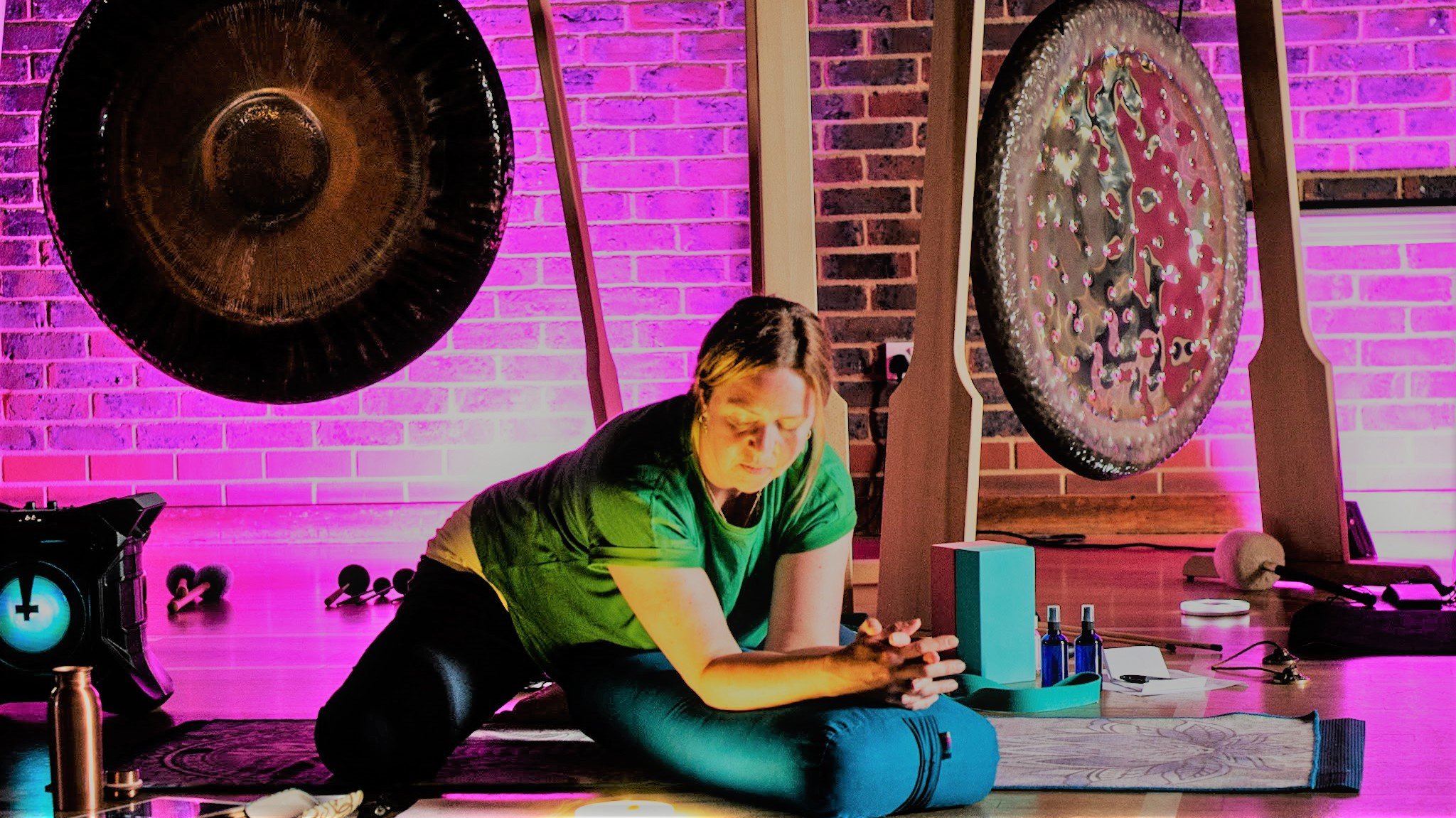 Gong Yoga Training
July 17, 2022
A 8 hour Gong Yoga training workshop (YAP CPD Accredited) that teaches you everything you need to deliver unique, powerful sound-driven yoga sessions, safely & skillfully.
Learn More